Does the Rover come with a computer?
Our Rovers do not have computers inside them but all of our payloads do. If you buy a payload with a Rover we will configure the computer to have all the code needed to drive it around with a controller within 5 minutes of unboxing.
Want to use your own computer? No problem, just check out our computer setup guide on our docs page to see how we recommend setting up a computer. Its the same document we use internally and it take about 30 minutes to go through. Be aware that the setup guide does not include how to make the computer boot on power which varies by computer. If your having problems figuring out how to do that you can reach out to us on our support page.
What computer should I get?
We really like the NVIDIA Jetson line. The NVIDIA computers include GPU cores which are great for doing image processing. They are becoming the industry default for prototyping and production.
Do the Rovers have encoders?
Yes, we used brush-less motors with encoders on the back of the shaft. The data from them is exposed in our ROS driver or by using our UART protocol. The raw data is very noisy since the encoder measurements are taken before the gearbox. We recommend filtering that data.
What sensors do the Rover have?
The Rovers have only encoders. All other sensors are meant to be put into the payload. This is because sensor technology is changing fast and this allows for using the latest and greatest sensors without having to redesign the whole robot.
Can you convert one type of rover to another?
Yes, and its very easy. It takes about 5 minutes to convert from one drive type to another.
Can you ship to countries outside the US?
We can ship to most countries, it may just cost more and take extra time. The most difficult thing to get to other countries are the Rover Pro batteries because they are over the 100Wh cutoff for being considered dangerous goods. These sometimes get flagged by customs. Contact us if you would like more information about shipping.
Is the Rover a good fit for my application?
The Rover platform is an incredibly reliable, capable robot, but will not meet every customer's needs. Use this chart to determine whether the Rover Pro is a good fit for your application.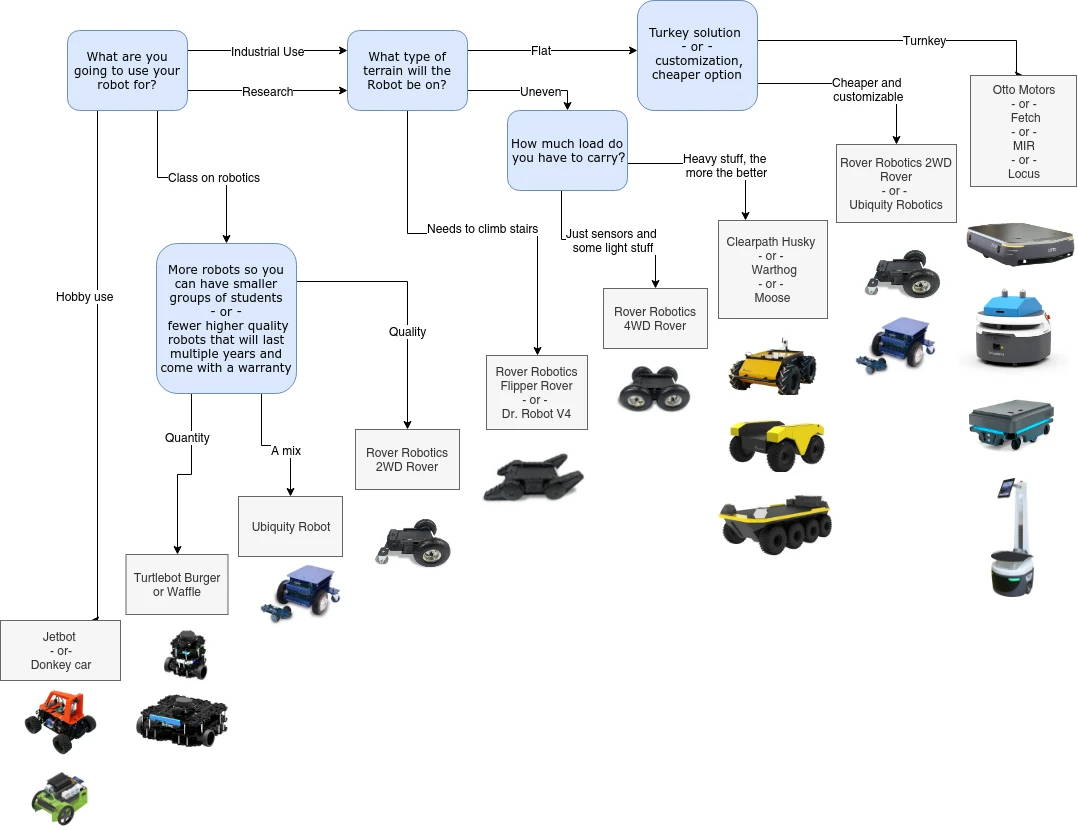 Driver Kit Installation Videos